Claim:
Samsung SmartTVs listen to the ambient conversations in the room; these conversations are sent to third parties.
Appearing
Response
Samsung Smart TVs Do Not Monitor Living Room Conversations; editor; In Samsung Tomorrow; 2015-10.
Commencing … <quote>Samsung takes consumer privacy very seriously and our products are designed with privacy in mind. </quote>
Continuing … <quote>Voice recognition takes place in two ways:</quote>
Mentioned:
Voice Recognition
Nuance Communications Inc.
Unmentioned:
Yahoo's, IntoNow technology.
Storyline
Archaeological order, newer derivatives on top; older, more original material, buried below.
Via: backfill.
Statements
Samsung's SmartTV Privacy Policy
Nuance has a separate Privacy Policy (not shown)
<quote>You can control your SmartTV, and use many of its features, with voice commands. If you enable Voice Recognition, you can interact with your Smart TV using your voice. To provide you the Voice Recognition feature, some voice commands may be transmitted (along with information about your device, including device identifiers) to a third-party service that converts speech to text or to the extent necessary to provide the Voice Recognition features to you. In addition, Samsung may collect and your device may capture voice commands and associated texts so that we can provide you with Voice Recognition features and evaluate and improve the features. Please be aware that if your spoken words include personal or other sensitive information, that information will be among the data captured and transmitted to a third party through your use of Voice Recognition.</quote>
<quote>If you do not enable Voice Recognition, you will not be able to use interactive voice recognition features, although you may be able to control your TV using certain predefined voice commands. While Samsung will not collect your spoken word, Samsung may still collect associated texts and other usage data so that we can evaluate the performance of the feature and improve it.
You may disable Voice Recognition data collection at any time by visiting the "settings" menu. However, this may prevent you from using all of the Voice Recognition features.</quote>
Responses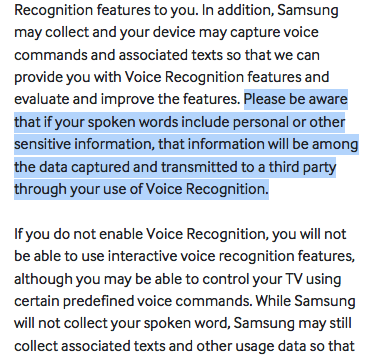 Source: a tweet, Parker Higgins (EFF)
Remediation
General
Unrelated